Demolition Company Wirral Cheshire
D

emolition is the core activity of the business and DSM have become recognised for their expertise and innovation in this industry.

DSM own and operate a modern fleet of plant and equipment; from one tonne remote controlled d-rigs, up to 250tn with a 70m arm.

DSM continues to invest in modern efficient equipment, taking into account environmental performance using cutting edge technologies that minimise impacts such as noise and dust.
Specialist services include:
Mechanical Demolition
High Reach and Ultra High Reach Demolition up to heights of 70m
Demolition by means of high speed explosives
Complex industrial de-construction
Inner city regeneration
Robotic de-construction
Structural alterations and refurbishment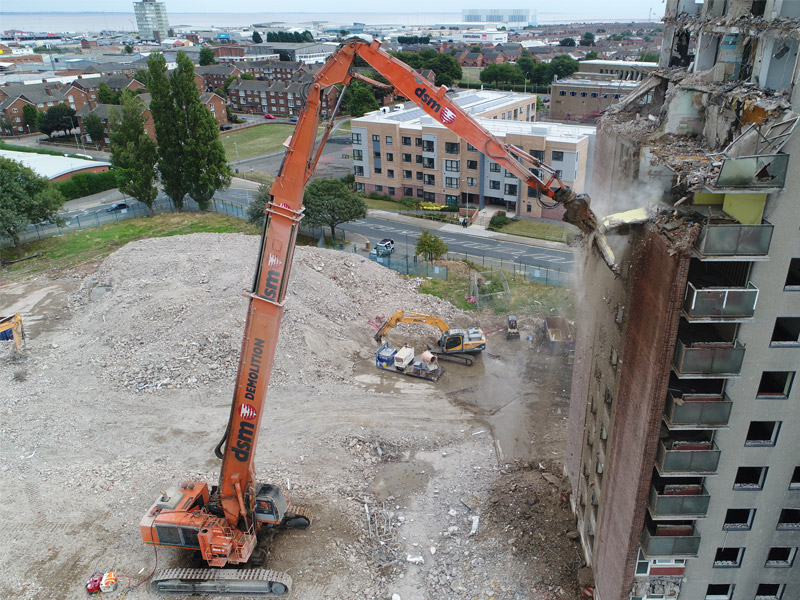 High reach demolition of 16 storey residential block
Demolition Wirral Cheshire
Each DSM project has a fully detailed design brief in line with client's safety, financial and programme requirements.
The DSM pre-contract team will fully evaluate each project and provide the delivery team with all the information necessary to undertake the works:
Scope of works
RAMS
3-D pictorial "story-book" method/phasing
Project constraints/risks
Site finishes
Demolition experts
Every project has a dedicated 'non-working' project manager who will manage DSM's resources and specialist pre-selected sub-contractors and will be responsible for:
Health & Safety – inductions/tool box talks/auditing
Site set up and daily maintenance and site security
Management of the workforce
Engaging with the client team and all third party
stakeholders
Ensuring that the work are delivered in line with the
design
Updating site documentation
Technical programming and financial reporting
Providing post project health and safety file information.
The Project Manager is supported by DSM's Directors and head office staff throughout the life span of the project. Together the team will ensure that the works are suitably and adequately resourced at all times.
The Project Managers site team will be experienced in the disciplines that they are delivering:
• Asbestos removal
• Soft stripping (minimising landfill)
• Structural demolition
• Specialist demolition (facade retention/explosives)
• Slab and foundation removal
• Crushing material processing
• Ground Remediation
• Ground stabilisation/civil engineering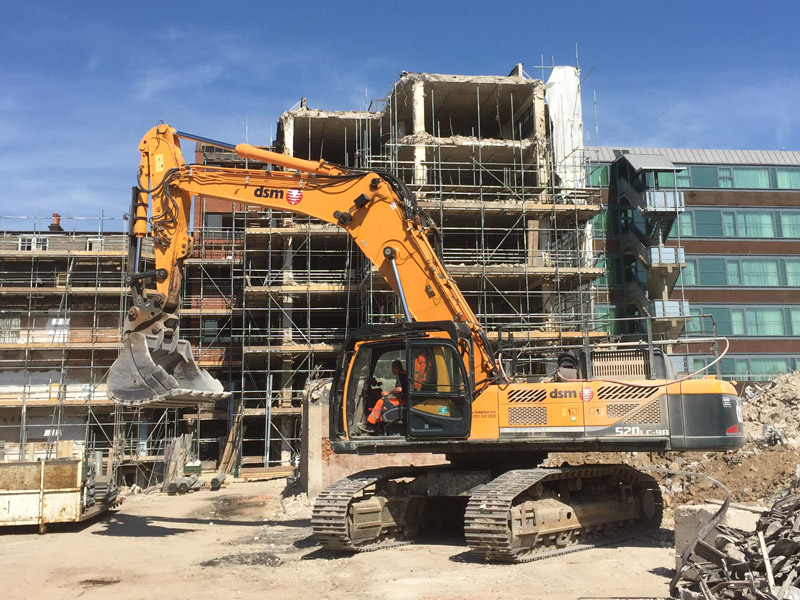 Traditional demolition within confined site – Ealing FilmWorks
DEMOLITION CASE STUDIES